Expected delay and other craps
Hi folks !
2 bad news today !
(always tell bad news first ! Even if that brings down the good news afterwards, at least you get rid of the least pleasant things right away and can focus on solutions and shiny rainbow poneys after it)
First : my real life moves in concordance with murphy's law, with maximum shittyness in the smallest amount of time. Good thing is turbulences will be over soon (early november if all goes according to plan), but it still takes its toll on my focus and freetime capability.
Second : I was planning to code a big "girls archetypes" module, as some of you know, but it happens all the sounds and voices I've been gathering for that since weeks just sounds like shit, after being included !
I planned 6 archetypes (screamer girl, grumpy girl, happy girl, etc…) on 3 "tons" (young high-pitch girl voice, regular girl voice and milf more deep girl voice), with 9+ different sounds each !
That should have been 6*3*9 = 170 new sounds for girls, a must !
Pirated from fighting games like Marvel vs Capcom series or KoFs, I took and cut among characters voice packs ("hurting" sounds mainly, did the trick!) and gathered not all the 170 sounds, but most of them.
And in the end ?
Sounds like freaking crap, like some butthumped crazy chickens ! (even delayed or folded in lots of way, you bet your tiny toochie I tried to salvage it the best I could)
All that for nothing, geeeeeeeeezzzz !!!!
So the rest of this big module seems to work, but it's a whole bunch of news I was counting on to nail the next update into a big new step.
That + the very unfortunate delay (because as in life, it's all about timing : I really wanted to release a fucking huge update in a fucking quick time!), it's been a crappy week for KoPC, yes…
I just focus on adding the tons of small details always waiting to be included, for now, before getting back on horse.
I think I will try to add another big module to replace the archetypes amputated one, but all those stuff takes time.
Feel like I had to keep you posted, keep faith, we will get there ! (but damn does it take long!!!)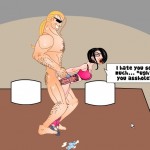 ———
Summary
Coming update : work in progress !
Release date : I don't know, a matter of weeks, alas !
Expected main content : lot of new sets (1 or 2 scenarios each), + girls "archetypes" with new dialogs & sounds + new foreplay fetishes poses !