Hi my dear hentai lovers !
I was absent for a few days, because internet was shut down at my place.
So, got some work to catch up !
First : a new game !
But before I was cut, I was able to finish a brand new hentai game, out of nowhere, yes ma'am !
And mysexgames.com receive and release it during my absence.
So, here's the official mattis announce :
MEETING REBECCA, a brand new hentai game !
http://mysexgames.com/games/?id=644
Proudly sponsored by mysexgames.com, so enjoy and make some noise !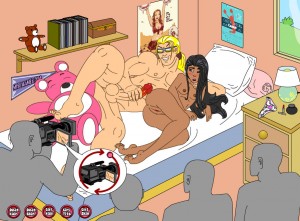 —————-
About next KoPC update :
Funding has been reached, I will start to work on it as soon as possible !
I would have liked to do a december update, but it's too late, with holidays coming.
Alas, days have only 24h, and it will not be enough !
So : as soon as possible, but no idea when, as usual !
Last blog's post didn't receive any comments (until, like, right now :p), but I hope you've read it anyway, there's still questions in the air open to opinions and suggestions !
Ok, I got to go, have fun !