Summer is at our door, my beautifuls!
On today's news, we have :
KoPC latest patch : fixed the 'manual ending' crappy bug, and it's now online! Reload your favorite game and enjoy it properly once again

Sexforge : loooads of news lately, as said in previous posts, and it keeps going, with the first multiplayer interaction. (I'm ultra hot for it, but players still aren't, until I can show you the wonders lying behind that, I guess!) Also, lots of new poses coming up! (but it's a bigger harder game than any other, so it's long to do!)
Next minigame : started a new one! About a certain lady in red married to a certain cartoon bunny… could you guess whom I'm talking about?
Lots of commissions or other work under discussions too, but I got nothing to show for it for now, so I prefer not mentionning it until it becomes truely fappable material for the fest!
That's all folks, keep well, enjoy all kinds of bouncing parts!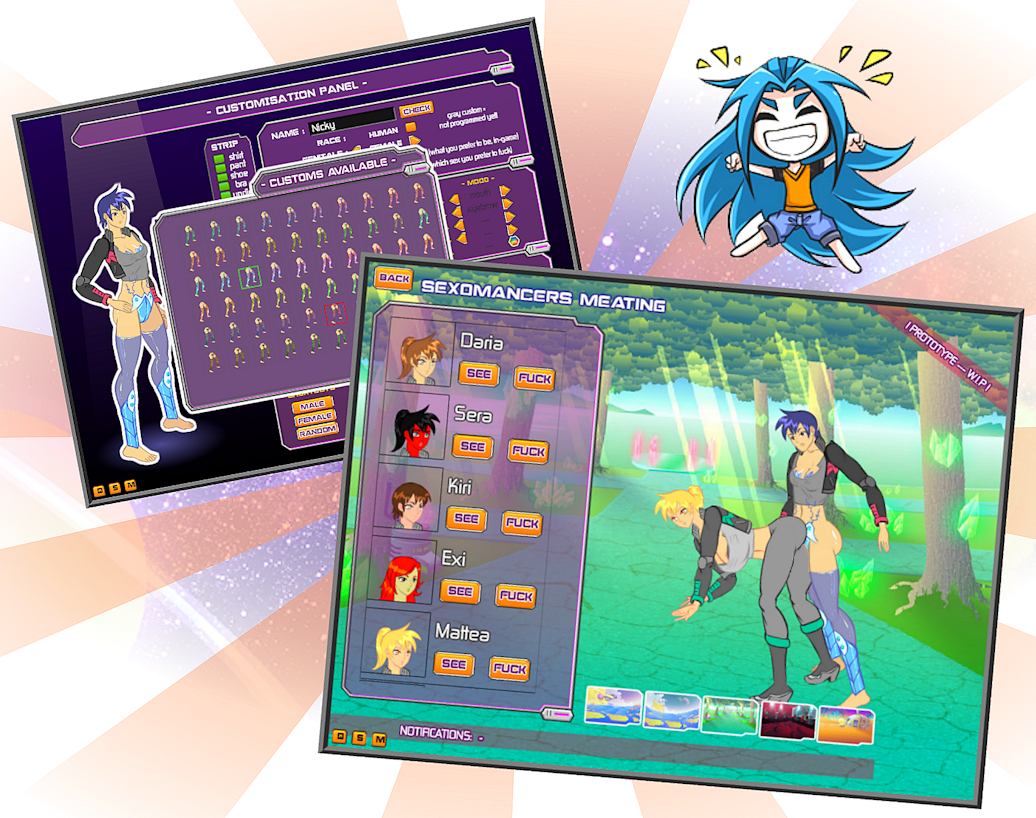 Hi my dear hentai beautifuls!
While still progressing on LP, and making big progress on Sexforge too, not mentionning KoPC (yep, I know, still a few crappy bugs in, alas), I made a little private commission on the side.
And the commissionner was cool enough to allow me to share it with you, as well as MSG was nice enough to host it for us all!
As Wonder Woman's, it's a private commission, originally, meaning I followed precise specifications, so don't expect a seamless globally balanced thing, it's not what private commissions are about, it wasn't wired and created as a big public stuff, but it's still a nice little candy to enjoy

THE LINK : Pixie Fucked
http://mysexgames.com/games/?id=723
How to help those games easily : must read !
————–
About other stuff :
Lust Planet : almost reaching a 'working demo' status! SSS worked ultra hard on his little jewel, it should be smashing!
Sexforge : looooads of new stuff is happening there (if you're still not in the sexforge patreon loop, lol :p)
A few pictures will show it better than I could explain it, so, here it is!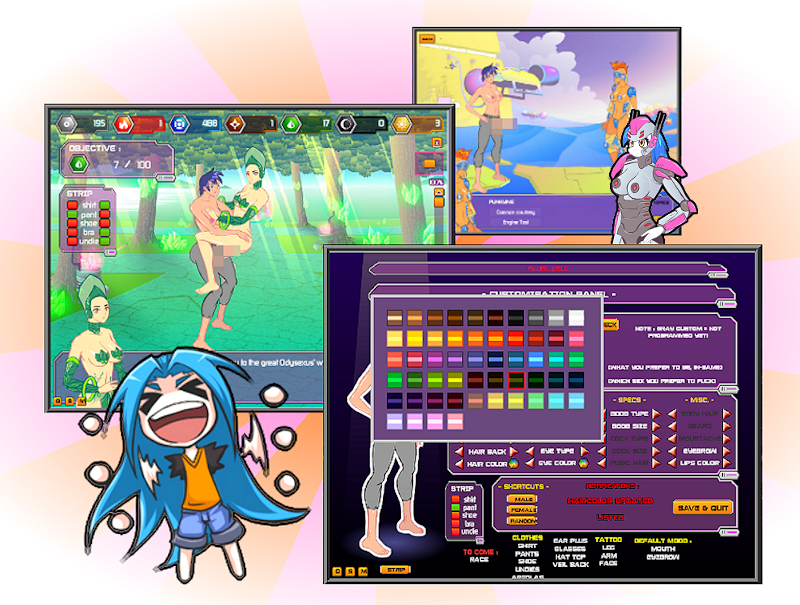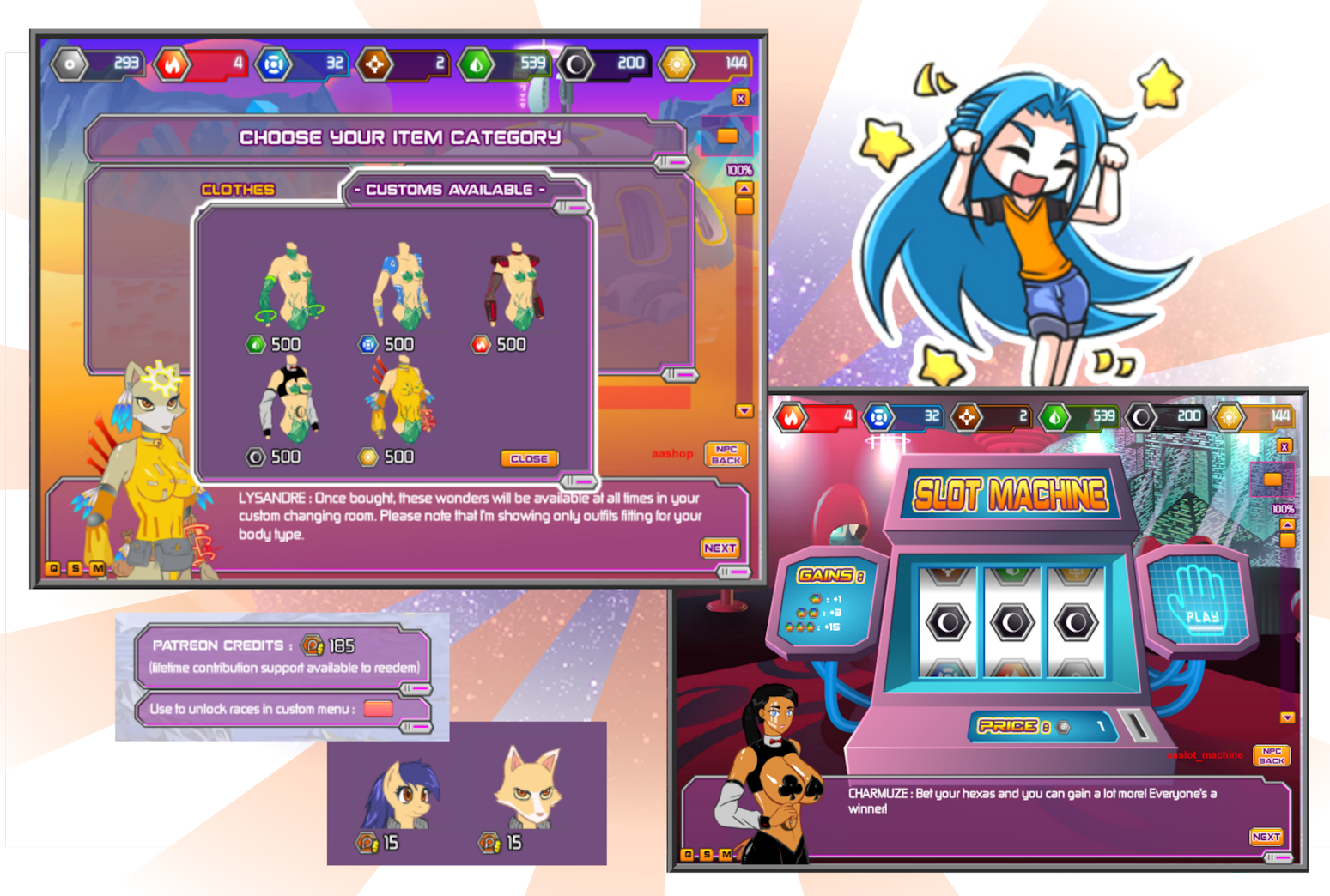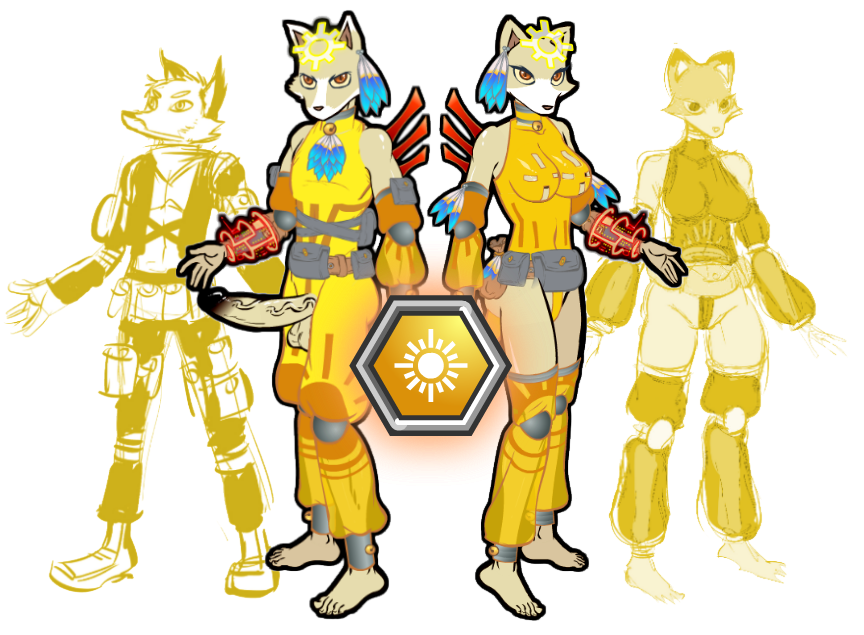 Enjoy, have fun, eat vegetables, and see you soon for more hot kinky hentai!
And here it is! Brand new, with already a tiny bug I need to fix asap, but hey, full of wonders and sexyness as usual!!
Bug fixed :
- Color for 'female' bodytype of main character.
- Warehouse levels backgrounds.
- Pants strippping problem when changing pose.
- Demon horns on head movements.
- "Slapping hand" animation problem.
- Trash/bucket/cake fuck (global engine improved on that!).
- Furry head reset problem.
Big engine improvements/simplifications (that should make the game faster to run!)
- Lots of buttons and re-arranged stuff around. (may be some residual artefacts here and there)
- Human/alien/demon babies coloring, in uterus.
- + attempt at Puppy baby coloring, in uterus. (mikecv)
- Additionnal simplification tweaks for bonus poses with objects!
- Guy's outfits engine fully redone!
- Orgasm message at end fuck engine do-over!
- Global in-game cycling engine completely redone!
- Brand new zooming/zoning system & tools!! (finally!!)
And for all the new content :
- Tweak in Xray default option!
- New freeplay option : cancel pregnancy!
- Brand new cop costume for main character!
- New bonus pose : pizza oven shovel thingy! (young & tall versions)
- New bonus pose : locker room vibrator! (young & tall versions)
- New bonus pose : park statue fuck! (young & tall versions)
- Bonus pose "beer insertion" : new elements working with it! (like football)
- Brand new y-some pose : "double up" (1 girl, 2 guys + watcher)
- New lingerie shop scenario : SHOPPING WITH LIL SIS
- 9 new various scenarios by Rancid!
- Brand new set : The Biker Bar, along with 2 scenarios!
- 3 new girls' outfits, going with all that : cowboy, football, and lingerie football! (to be found in freeplay customs too)
- 1 new mysterious scenario, set and outfit, to be unlocked in Code Redeemer!

THE LINK (reload a few times, if needed, to get the newest version)
http://mysexgames.com/games/?id=594
How to help the game easily : must read !
Enjoy and have fun!