New YTPP 4 is out !
Hi everyone!
It's been a long struggle and a game of hide and seek but we're finally here : YTPP episode 4 is out!!
This one's been planned since a looooong time. I had the idea since before YTPP 2, but I never had the chance to put it in real flesh!
Thx to SuperSatanSon amazing skills, I was able to shape it the way I wanted it, both learning a few new tricks in the process, which is always good. And  now I have a new viciously colorful tale to offer you!
A few (easy) easters eggs, a nice rule34 without drifting away from the serie's spirit, and small overall improvements on lots of stuff, + a nice twisted story as usual !
Not much to say I don't already stated and explained in previous blog's posts, so, time to enjoy !
YTPP 4 : #Selfie! – http://mysexgames.com/games/?id=709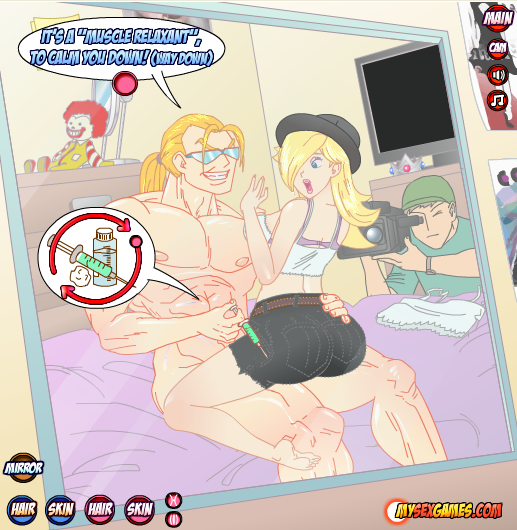 ——-
So, other news ?
I got a few commissions still uncertain, but I would be glad to work on and start when I can

Reminded me this point was unclear, but : Â I AM open to commissions.
I'm not used to them, so we always need to discuss things first, I can't give you prices & specifications cold grids, but it's well known I could do with more money, even if just to buy a new real computer (mines are still 10 years old broken things, ugh!), and I'm always up to put my few skills to use to give flesh to your fantasy!
So, be sure to ask!
That says, still sprinting (not "rushing", it would implied I'm half-assing stuff, which I sure don't!) to finish the Sexforge alpha demo, to give supporters something for their efforts.
Should be a private demo needing early access codes, given to processed patreon supporters only, though, so be sure to to get on board before the month ends if you're still not.
And if you don't/can't give 1$ to the thing, don't worry, the game will open to everyone, later, when in more advanced state. (and I'll keep doing other games aside during the wait!)
Oh, and also something a few people asked : yes, paypal donations can work as patreon support, to give accesses or bonus codes for all previous games and stuff, you just need to inform me you want your donation to work as patreon support, and I'll handle it manually.
Speaking of other games, Sex Pit update should be next. I put it to vote, not really knowing what you would prefer, and it came up like that, far before everything else. Should be a significant update, with events and all.
But I got noooo idea how it will goes or all it will contain, for now.
(yeah, I've been "kind of" working on several other projects and taking care of other stuff, lol, didn't really had some peaceful quiet time to get deep with it and figure details, but we'll get there!)
And now ? Now I get back to work on Sexforge, yaaaaah !!