Hi everyone!
New KoPC update is out!!
This time, full focus on playable content, with 3 new sets (subway inside, tv show set, and bdsm dungeon), their precious scenarios, and loads of new sex poses and fixes on previous ones!
To be more precise :
- bonus pose "bottle" extended (fit for red, pink, blue and white dildos!)
- bonus pose "lifesaver thingy" (don't remember the name, lol) extended (fit for rope)
- bonus pose lightpole extended (fit for bdsm brasero)
- new bonus pose whipping (small and tall girls' version)
- new bonus pose cross (small and tall girls' version)
- new tall girl regular sex pose : floor back fuck
- new tall girl regular sex pose : stand screw (no leg up)
- new small girl regular sex pose : lotus
- fixes on lightpole bonus pose.
- fixes on "bottle" bonus pose.
- fixes on "stand up front" regular pose. (… I didn't write down for which type of girl, lol)
- fixes on "stand up back" regular pose. (same)
- fixes on "lifesaver thingy" bonus pose.
Well, that and several coordinates fixes, among other!
All yours to enjoy to the fullest! Without further ado…

THE LINK (reload a few times, if needed, to get the newest version)
http://mysexgames.com/games/?id=594
How to help the game easily : must read !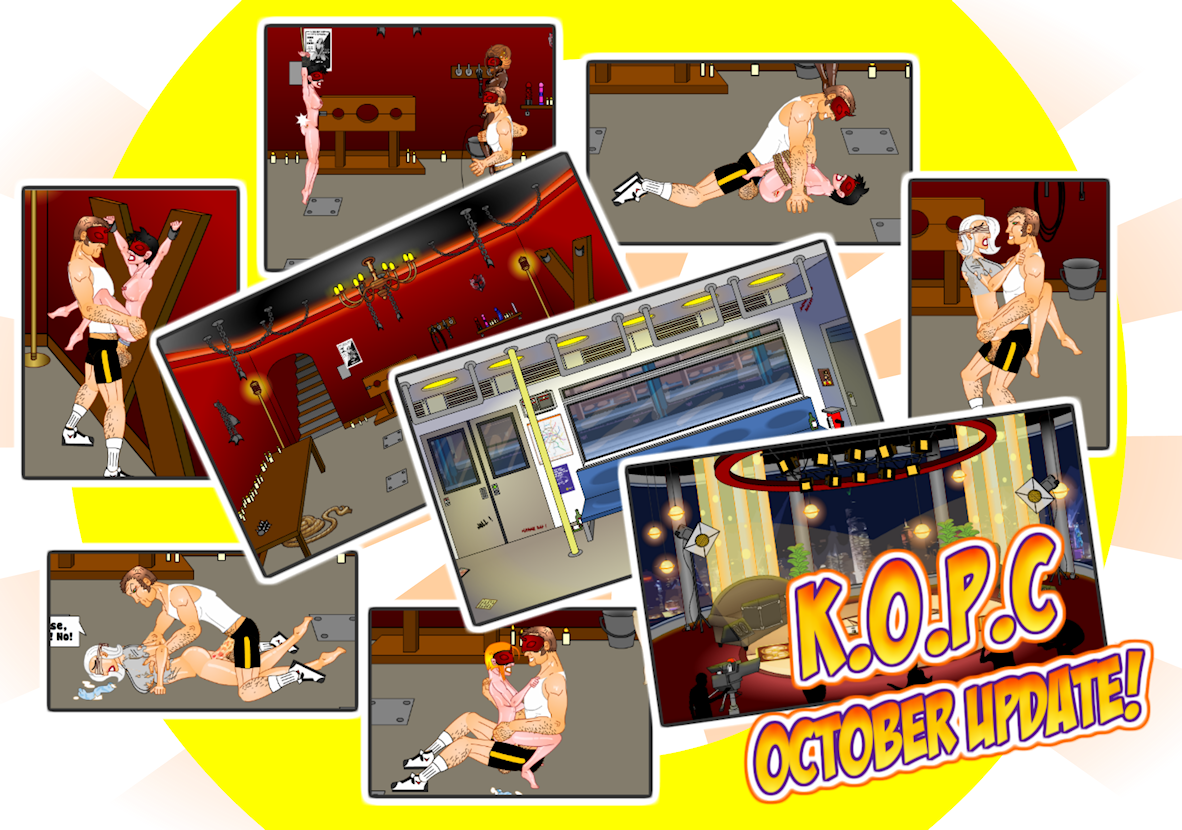 —————————
Also, as you can guess, tons of Sexforge news!
But not only, as my dear SuperSatanSon hook me up for some quick halloween minigame collab rush!
(which is ending up as a masterpiece, you will not believe your eyes, this guy got da skillz!)
Stay tune for more, I got to go, a galaxy of hentai energy is waiting to be mold!
Hi back!
Electricity is here, I finally got home, at last! Just in time for winter cold times (early, this year!), and hot chocolate beverages, yeah!
Regarding news, the KoPC update is going good. Slowly, but good, with lots of new poses and sets planned.
On Sexforge, the first side campaign was released! It was something very interesting to do, and I hope players will appreciate it, lol

New bugs, quirks and small stuff around also, it's a huge project coming together bit by bit.
I'm still struggling to find new collaborators, but also to plan smaller minigames, so I can release more to keep the fun flowing everywhere and for everyone.
Managing all that by myself requires a looooot of neurons and tea, lol, not easy everyday, but definitely so much worth it!


(PS : I also tried to find a good vibe for 3D hentai, sometimes, but am still not satisfied by current forms of it I could work on, so that's for later, I guess :p)
Little peeks? Ok, little peeks, you deserve it xD
Excelsior!
Hi everyone!
So, what's new? Well, several things!
First being : my electricity is shut down at home since a week, and for all this week too, "a priori".
No internet, no food (electric cooking devices), no refrigator, no lights, no-thing. Good times


(it was quite some time, since last problem of that scale, no?)
Anyway, I juggle with temporary solutions during that time, but it ain't easy, for sure.
That aside…. v1.1 patch for Jessica's game. Still some small problems left, but it's definitely better.
Also : started a new KoPC update! Yeah!!
And finally : the harem building module for Sexforge is done (at least the core engine and base quests), and seems to work! So, really good thing too!
No wonder September seems like a freakingly long and hard month! Marvellous things everywhere!
Enjoy, and see you soon for more sexy miracles!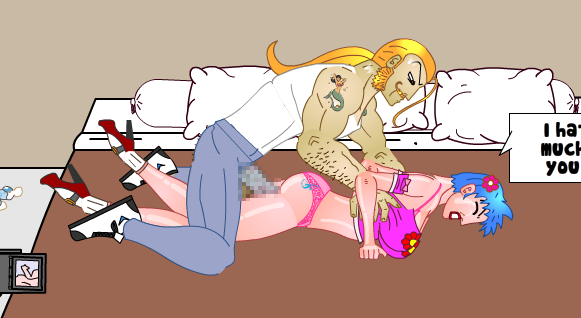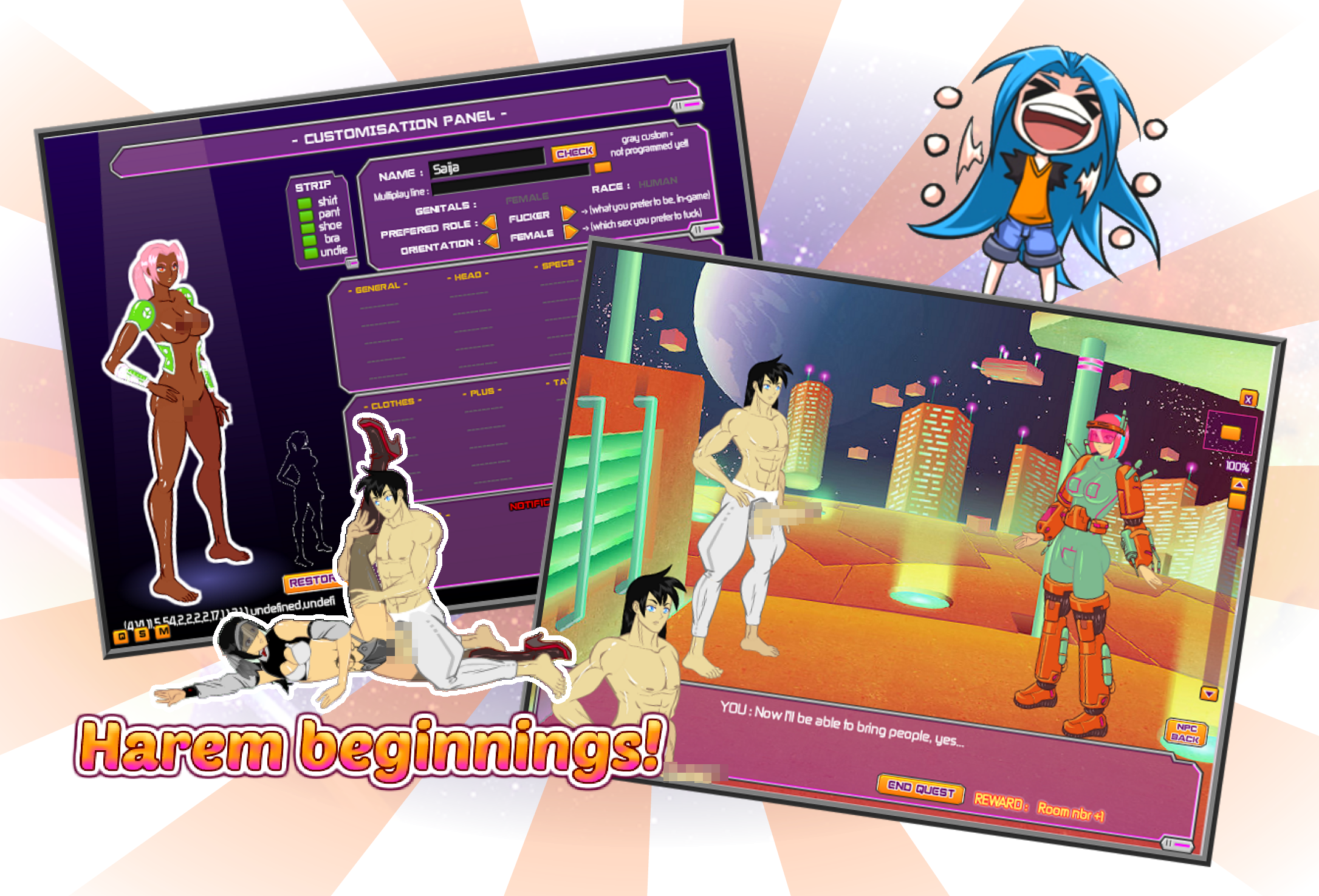 Hi my dear hentai lovers!
Just a bunch of quick news for you all!
Sexforge is still building up great! There mustn't be a lot of you who don't follow the patreon page, but it's worth saying anyway!
Still have two main concerns, though :
1 – big modules to program ahead. It won't be a problem, but it sure won't be easy and it sticks on my mind. We will all feel more blissful when it's done, for sure!
2 – major problems in finding additionnal team members for this project. Even in pro circuit, where I try to employ assistants, additionnal animators, writers or artists : it seems there's no one interested or "reliable" around, and that's a big stress for me.
+ the time invested in searching! I've spent dozen of hours contacting people, trying to explain them what I want, training them, giving them time, ressources and all, and still doesn't have anyone to show for it. "Argh" is the precise word.
But hey, things are progressing, still, so it's not bad news. It's just I would like to be able to increase a lot more my output to give life to my ideas. (as incredible as it already is, for a "one-man" team, lol)
Other news : Jessica's game is about to be released! I work 32 hours a day to finish it properly and sexily, lately.
And now it's done! Waiting for host's response, now, but it's great news again !
That's all for current work news, I've been focusing on those to free some time for the rest, there's just so much one man can do per day!
With Jessica done, and some luck breakthrough on Sexforge teamwork, I should get a lot more time to get to other stuff!
That said, with so many projects around (LP, SexRacers, SexPit, KoPC, TiTs, YTPP, etc…), and still so much I would like to pull off (we don't even scratch the top of my ideas and desires, lol), the only real way would be to have teammates, yes, an army of minions I could employ for all the tiny very doable tasks that would make everything progress a lot at the same time!
(so much I could easily delegate and which could do wonders for all those games… It's just hundreds of small cuttable hours I don't have!)
Or a cloning potion.
Talk about living with frustration, lol


Let's zen it out, and focus on progressing one step at a time!
After all, we already pull out so much together, from the humble "KoPC alpha" beginning!
A dozen games, 3 or 4 major projects, and growing!
Let's rejoice, and keep going on!
Aaannd it's coming back slowly, despite the daunting amount of stuff and stress I'm under lately.
Jessica is progressing ultra well, Sexforge, at a good pace, and I even had time to figure out "sweat" in SFM (Source FilmMaker software) has something to do with "phong" variable. (but most models I have are broken as fuck, regarding that, so, there's still mysteries…)
Talking about SFM, an additionnal eye candy :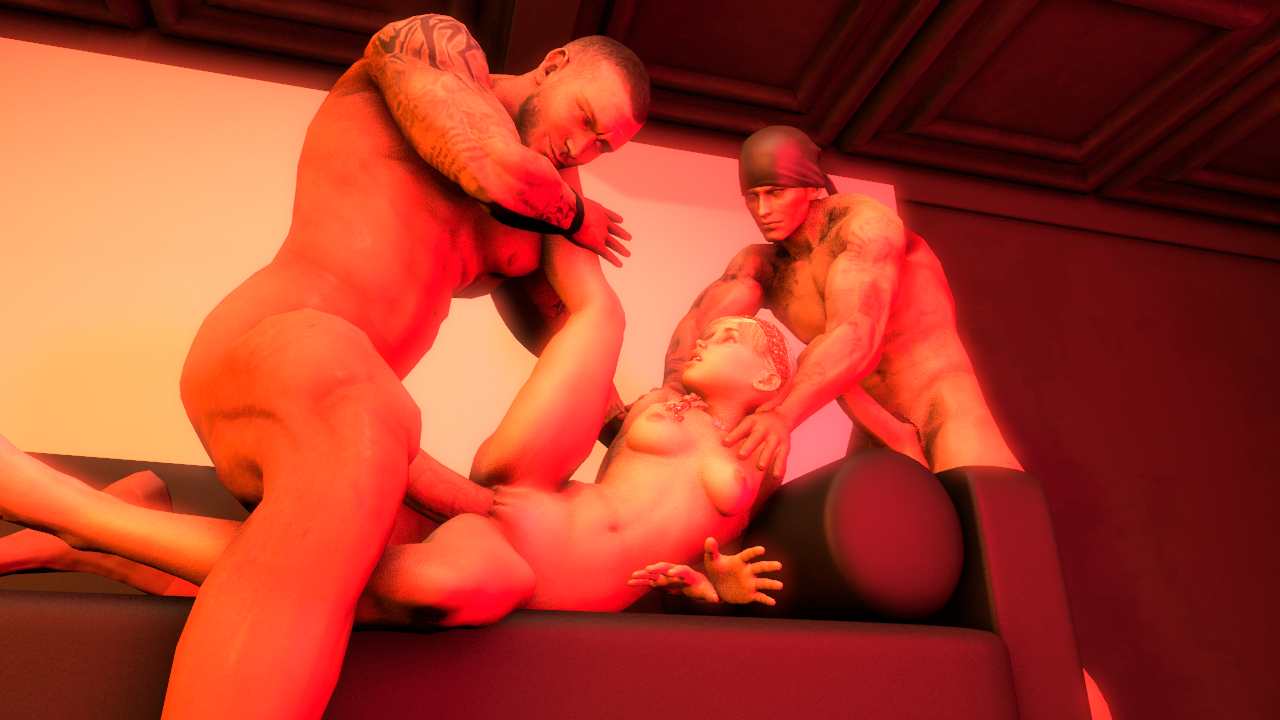 Everything is going as fast as humanly possible, so let's get back to it, I was just taking a minute to share some progress and sexy image with you all

Summer is at our door, my beautifuls!
On today's news, we have :
KoPC latest patch : fixed the 'manual ending' crappy bug, and it's now online! Reload your favorite game and enjoy it properly once again

Sexforge : loooads of news lately, as said in previous posts, and it keeps going, with the first multiplayer interaction. (I'm ultra hot for it, but players still aren't, until I can show you the wonders lying behind that, I guess!) Also, lots of new poses coming up! (but it's a bigger harder game than any other, so it's long to do!)
Next minigame : started a new one! About a certain lady in red married to a certain cartoon bunny… could you guess whom I'm talking about?
Lots of commissions or other work under discussions too, but I got nothing to show for it for now, so I prefer not mentionning it until it becomes truely fappable material for the fest!
That's all folks, keep well, enjoy all kinds of bouncing parts!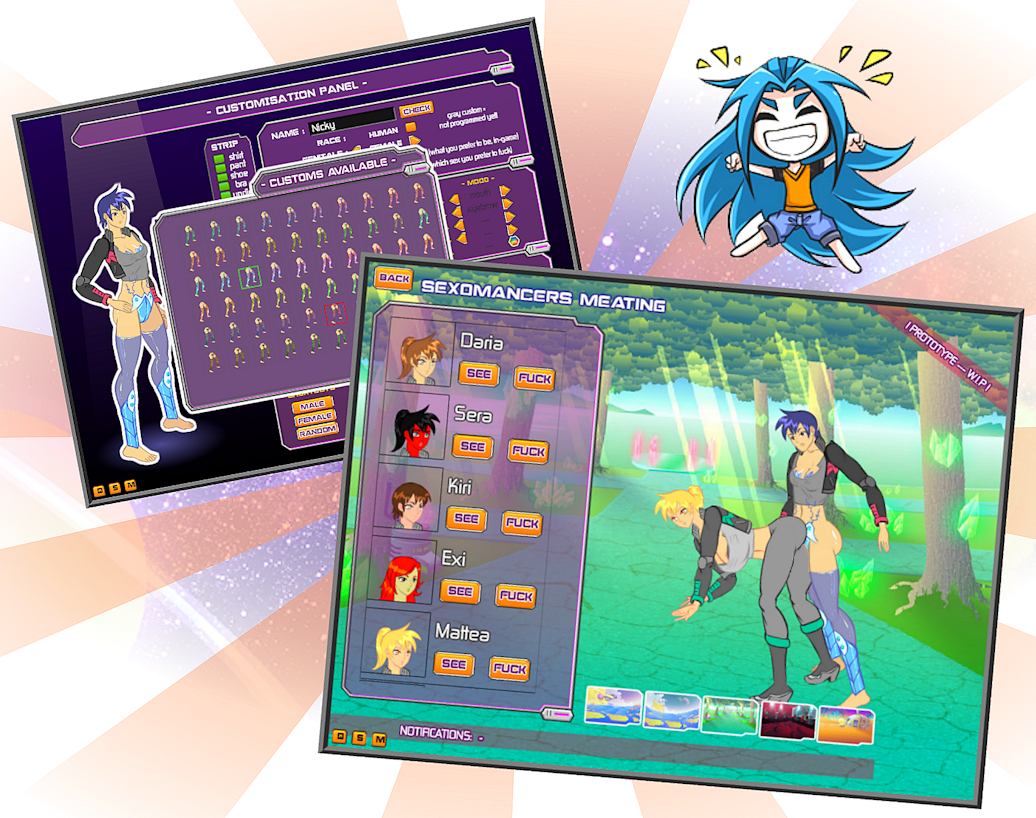 And here it is! Brand new, with already a tiny bug I need to fix asap, but hey, full of wonders and sexyness as usual!!
Bug fixed :
- Color for 'female' bodytype of main character.
- Warehouse levels backgrounds.
- Pants strippping problem when changing pose.
- Demon horns on head movements.
- "Slapping hand" animation problem.
- Trash/bucket/cake fuck (global engine improved on that!).
- Furry head reset problem.
Big engine improvements/simplifications (that should make the game faster to run!)
- Lots of buttons and re-arranged stuff around. (may be some residual artefacts here and there)
- Human/alien/demon babies coloring, in uterus.
- + attempt at Puppy baby coloring, in uterus. (mikecv)
- Additionnal simplification tweaks for bonus poses with objects!
- Guy's outfits engine fully redone!
- Orgasm message at end fuck engine do-over!
- Global in-game cycling engine completely redone!
- Brand new zooming/zoning system & tools!! (finally!!)
And for all the new content :
- Tweak in Xray default option!
- New freeplay option : cancel pregnancy!
- Brand new cop costume for main character!
- New bonus pose : pizza oven shovel thingy! (young & tall versions)
- New bonus pose : locker room vibrator! (young & tall versions)
- New bonus pose : park statue fuck! (young & tall versions)
- Bonus pose "beer insertion" : new elements working with it! (like football)
- Brand new y-some pose : "double up" (1 girl, 2 guys + watcher)
- New lingerie shop scenario : SHOPPING WITH LIL SIS
- 9 new various scenarios by Rancid!
- Brand new set : The Biker Bar, along with 2 scenarios!
- 3 new girls' outfits, going with all that : cowboy, football, and lingerie football! (to be found in freeplay customs too)
- 1 new mysterious scenario, set and outfit, to be unlocked in Code Redeemer!

THE LINK (reload a few times, if needed, to get the newest version)
http://mysexgames.com/games/?id=594
How to help the game easily : must read !
Enjoy and have fun!

Hi again, my dear hentai lovers!!
Still nothing new released yet, though KoPC update is finished and waiting for upload!
So hang in there

Also still working on LustPlanet, it's coming up together, it should really be a blast!
Same for Sexforge : progressing well, even if it's a huuuge work to come up with!
And finally : a private commissionner allowed me to share publicly his command, so expect a new great little animation I'm working on to be up soon-ish!
And I'm still open to commissions, of course, as they are a very nice help for funding other projects, as well as great opportunities to learn new tricks (for me), and provide focused pleasures (for you)!
Just write me your pitch and discuss it with me at mattis.chastan@gmail.com!
So, nothing really "visible"/playable for now, but it's coming around for sure!
I'll tell you as soon as I have something in my sack of wonders

Thx for your support and presence, and long live hentai!!

Hi everyone!
As it's been some times and I didn't check in, let's get it right!
Mainly, if I didn't came up with more news, it's because I didn't publicly release anything new

Sexforge has been going on, but it's still in early alpha. Filling up NPCs, poses, quests and engine elements, I hope to be able to jump to second stage of development soon. Maybe still not an open alpha, but at least to get things more 'real'.
I worked on Lust Planet, too, to came up with last pieces of the first working draft of engine.
It's been tricky but fruitful and satisfying work so far. The game is progressing well too, even if not finished either.
Patreon.com end of the month process went through, also. It has its up and down, mainly because players are really really confuse about how it works, when really it's not that hard!
You pledge something to support the creator/project, then at the end of the month patreon.com charge you for your pledge, if you fill properly your payment infos.
Then wait until the 7th of next month, for me to process the results, and grant rewards (accesses, codes, etc…) through a program that send automatic e-mails to every supporter.
That's it.
But lots of people are confused by that, and I always end up spending 2 weeks responding, answering and repeating those same thing in various ways to tons of people. Precious time of work lost, alas :/
That said, I've been working on next KoPC update too, though, as patreon.com perk being I can receive a little funds, thx to supporters, to work on new games and updates!
It's going well, with loads of bug fixing and engine make-over/improvements, and several new tools, a new set, and new poses!
Should be coming around sometimes this month!
And restless insane dude I am, I've also been working on private commissions


On that topic : I'm open to commissions!
Just pitch me your idea and request by e-mail at mattis.chastan@gmail.com!
From 300$ to 1000$ usually, but it really depends on what you want, we will take time to discuss it, propose and bounce ideas, and see what can be done for your pleasure!
If it can help me pay some bills and maybe even one day buy a proper computer to work with, on top of granting very exciting wishes, I'm all for it!
And that's it for now and for the news, gasp!
I will reach to you again once I got something crispy to offer!
Aaaaand a new game already!
Yes, I'm totally on fire since a few months, you've never seen a solo creator so productive, I know, I'm the best, the hentai messiah, lol! xD
(don't worry, my games are still far from perfect, and barely bearable sometimes, I know that too, huhuhu)
This one is a commission I received last month, from one of you (ouuh, secret secret!), that I loved to work on, as a mod of YTPP 4!
And the anonymous good samaritan allowed me to release the game to public! (say "thank you" to him!)
So, enjoy it (and it's 9 endings!), be fair, as it was a special request, so it wasn't about being polyvalent (no bonus mode, for example), and… well, that's it! Have fun!


THE LINK : Wonder Woman, Fall into Porn
http://mysexgames.com/games/?id=716
How to help those games easily : must read !
---
Other news?
Other news : I didn't gathered much, this month, on main patreon page (more than half the pledges are fake ones, alas :/), so I wasn't really able to start new big stuff.
But I progressed on Sexforge (new quests, new features, new NPCs, new everything!!), in partnership with SSS.
And as we are both insane, we also worked a lot on his own big game project : Lust Planet.
Things are going really well, even if we're not there yet on anything, but that's still some productive month!
And also, I started a new KoPC update, but without much to go on, it's just small steps here and there.
Yep, in the end, a big ass month, still, lol!
So, onward to May! (May the hentai be with you all? Rock on!)